Mark your calendars Brothers and Coworkers!
The Loyal Order of Moose Supreme Governor, Harry Johnston and his wife, Linda, will be visiting Waldport Moose Lodges on Wednesday, August 8th. They will be accompanied by the Deputy Supreme Governor Marty and wife Linda Peterson. They hope to get some crabbing action during the day of their visit, then dinner will be served at 6 pm in honor of our esteemed visitors and guests. A Tommy Moose presentation will follow after dinner. All members are encouraged to join and help welcome our esteemed Supreme Governor Brother Harry and wife Linda to our Lodge. Reminder that RSVP is required. Hope to see you all there!
Attire: Business Formal
MENU Appetizers – Crab Cocktail, Shrimp Salad, Bread
Main Entrée – Choice of Roasted Filet Mignon OR Baked Rock Fish
Side Dishes – Mashed Potato, Ratatouille
Dessert – Berry Parfait
Dinner is $18/person
RSVP to Jim at 541-272-2395
ABOUT the Supreme Governor: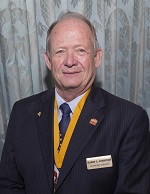 HARRY L. JOHNSTON
Harry L. Johnston serves the Loyal Order of Moose as Supreme Governor. He was elected to this post in July, 2018 at the 130th International Convention in New Orleans, Louisiana. Prior to this post, Harry served as the Supreme Jr. Governor (2017-2018), and as a member of the Supreme Council – the fraternity's Corporate Board of Directors (2008-2017); and served on the Judiciary Committee (2003-2008).
Harry joined the fraternity as a member of Greeley-Evans, CO Lodge 909 in 1986. He served through the Officers' chairs, including Governor (1990-1991). He has served his Lodge as a Ritualist since 1991 and has finished in the top three individually in International Ritual competition eight times, winning the International Shining Star as Lodge Ritualist of the Year in 2004. He has also served on and chaired numerous lodge committees.
Harry elevated to Pikes Peak Moose Legion 156 in 1988 and served that unit as a Champion Ritualist since 1997 and as the International Champion in 2005 and 2006. He has served the Colorado Moose Association as an Officer or Committee Chair since 1991; he served as Association President (1997-1998) and as the Deputy Supreme Governor (1999-2000).
Harry received the Fellowship Degree of Honor in 1993 and the Pilgrim Degree of Merit in 2000. He is a member of the 75 Division of the Moose 25 Club.
Harry holds a Bachelor's Degree in Education from Colorado State University; is a General Manager for Loveland Ford-Lincoln in Loveland, CO. He and his wife, Linda, are the parents of 10 children and 10 grandchildren.
Source: http://www.mooseintl.org/supreme-governor/